After surviving a shooting, this Crossroads student is living for God
John stepped out of the pay phone booth with his emotions running high and his anger running hot. Three gunshots rang out.
Bang. Bang. Bang.
Bullets whizzed past John's head. Car tires screeched and John turned to see a car carrying several of his former drug dealing associates peel out down the road.
Instinctively, John pulled out his handgun and began running after the speeding vehicle. Witnesses said John shot at the car, but he doesn't remember doing that.
He just remembers his anger fading with each step he took, leaving him with the sobering feeling that he should have been dead but, somehow, he was still alive.
"I didn't get very far off down the road when I realized that God had just saved my life," John said.
But John didn't understand why. Was his life even worth saving?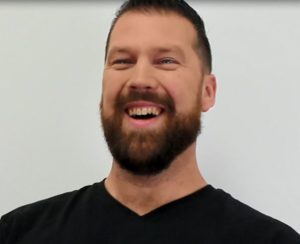 John grew up in Hamilton, Ontario, surrounded by drugs, alcohol and violence. His father left home when John was one year old.
"I spent most of my childhood trying to be just like my older brother. So when he started fighting, I started fighting. He started doing drugs, so I started doing drugs," he said.
By age fourteen, John was smoking pot every day. By sixteen, he was selling it. He began selling acid, ecstasy and cocaine to feed his drug addiction.
After getting kicked out of his mother's house, John went on welfare. He blew all his welfare money on drugs, planning to sell the drugs and start his own "drug kingdom."
"When you are addicted, nothing ever works out the way you want," John said. "I did all the drugs and found myself about to be homeless and broke."
Around this time, John was offered a job by a friend who was running a marijuana grow operation. They gave him a gun and told him to make sure no one stole the crops.
"That's what I did for the next few years. I just grew pot and did drugs. It was one shooting to the next. One fight to the next. One harvest to the next," John said.
But after a while, John grew tired of the lifestyle. He grew hungry, tired and sick. "Most days I felt like I wanted to die. Life was hopeless and meaningless," he said.
After a disagreement with some of his drug associates, John decided to rob them. He harvested the entire marijuana crop, dismantled the whole grow operation and stole everything.
John's plan was to sell everything, move to Calgary and get a job. But he ended up wasting all the money on partying and drugs. Before he knew it, he had spent everything.
One night, John and a friend decided to pay his former associates a visit. One of the guys opened the door, but when he saw John, he slammed it. John pointed his 12-gauge shotgun against the door and fired. The man fell, and John ran off.
That evening, John's face was all over the news. He was wanted for attempted murder. It was then that he decided to contact his former associates and ask them to settle this with a shoot-out.
"I knew they were after me. I wanted to get it over with," John said.
It was surviving the barrage of bullets after exiting the phone booth that changed the trajectory of John's life.
Not long after the shooting incident, John was arrested. As he was sitting in a holding cell, he couldn't shake the feeling that it was God who had saved his life that night.
"You are going to save a scumbag like me? Someone with no value? God, if you are going to save me, I'm going to live for you," John prayed.
While in prison, John started living for God. He began to sense a calling to preach but didn't know anything about the Bible. So he enrolled in the Crossroads Canada mentorship program.
"I fell in love with it," John said. "There was something about receiving handwritten letters. Jail is such a lonely time. Every letter you get means someone thought about you. They put in time and effort and put pen to paper on your behalf. Getting a letter from someone on the outside is like gold."
John grew in his knowledge of the Bible through Crossroads and began sharing the Gospel with guys in his unit. After he was released, he began volunteering at his church youth group. He also started sharing his story in schools, churches and prisons.
John got married and he has three children. He and his wife currently work for a street ministry in Canada, and John continues to preach and share his testimony wherever he can.
"I love to use my story as a launching pad to get into people's lives and share the Gospel," John said. "There's nothing that can change someone's life like the Word of God."
That's something John knows from experience.
You can make a life-changing impact in a prisoner's life! Find how to become a Crossroads mentor.