Part 7 of Imagine Kenya Series
OFFICERS
Over Chai tea and Kenyan donuts, our Crossroads team met with two Kamiti Prison officers and got educated.
Abrahaim, officer of human rights, and Francis, officer of operations, said they were expecting us and wanted us to feel at home. We sat around a large table sharing chai tea and mandazi (a
fried dough made with coconut milk and cardamom).
Pastor Kenneth discovered connections with the officer about places and people they both know. An easy camaraderie was established in the room as we once again signed the guest book for
the prison.
Some of the chaplains we met on Monday are stationed here. They joined us for tea. During this prison visit, I learned the difference between a medium- and maximum-security prison. Medium is for people who are sentenced between one month and 15 years. Everyone in maximum has a minimum sentence of 15 years, their crimes more severe. Today there are 800 men in this medium-security part of Kamati prison. There will be 900 by the end of the day. The 100 on the way were being transferred from another prison in Kenya.
Officer Francis, who has worked inside prison for over 25 years was eager to answer questions and teach me a thing or two. One of the questions I brought along was, "Why do people end up
in prison?"
Before I tell you what he said — what do you think the answer is?
I also asked Officer Francis what he would say to an audience if given the opportunity to talk to the general public about prison. Here is his message word for word:
"Prison is not a good place."
"If you can, avoid crime."
"Prison takes you back from where you are."
"Crime is NOT GOOD."
Later, we saw this final statement painted on one of their prison walls. I asked permission to take a photograph and Officer Francis approved.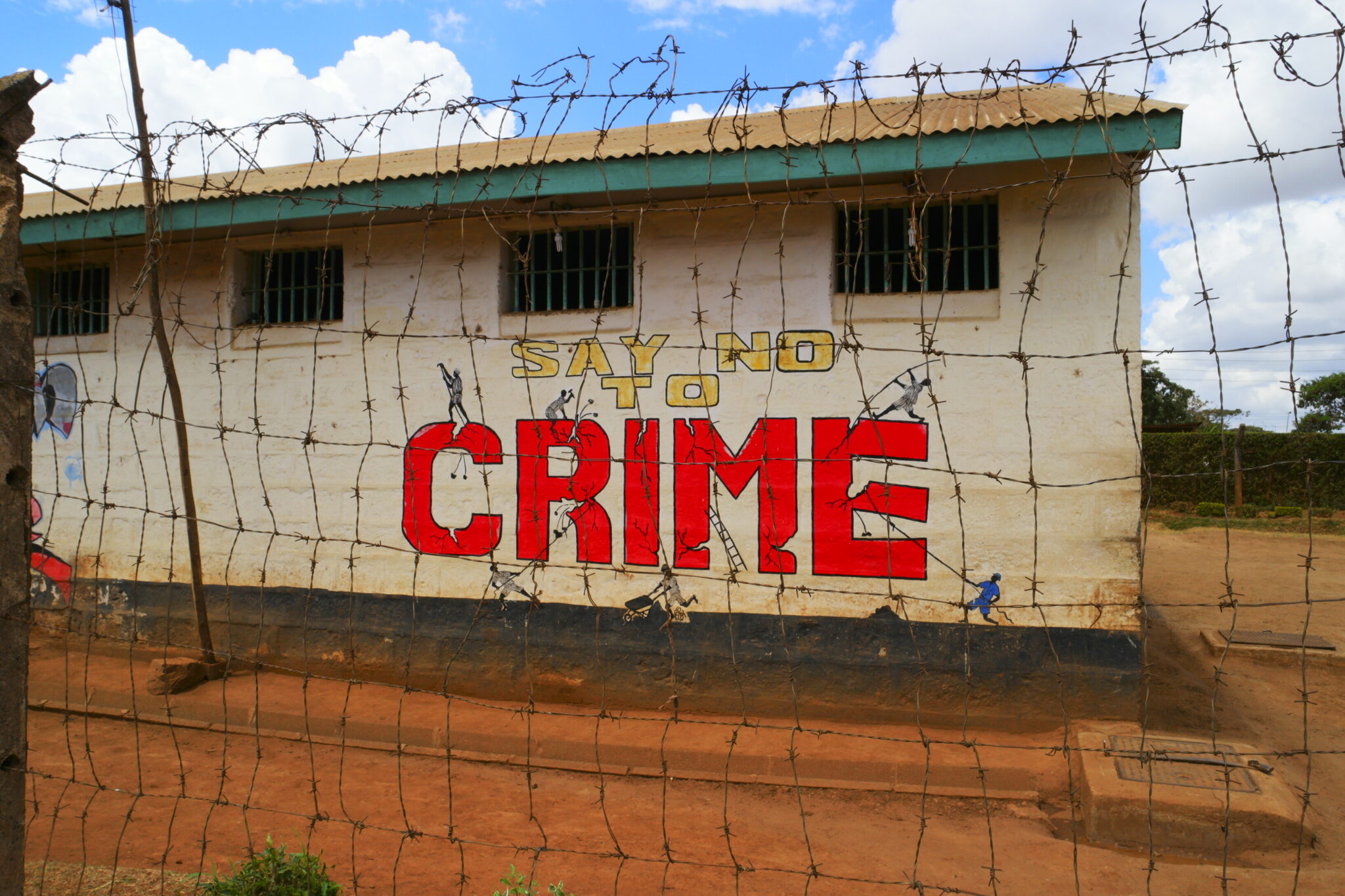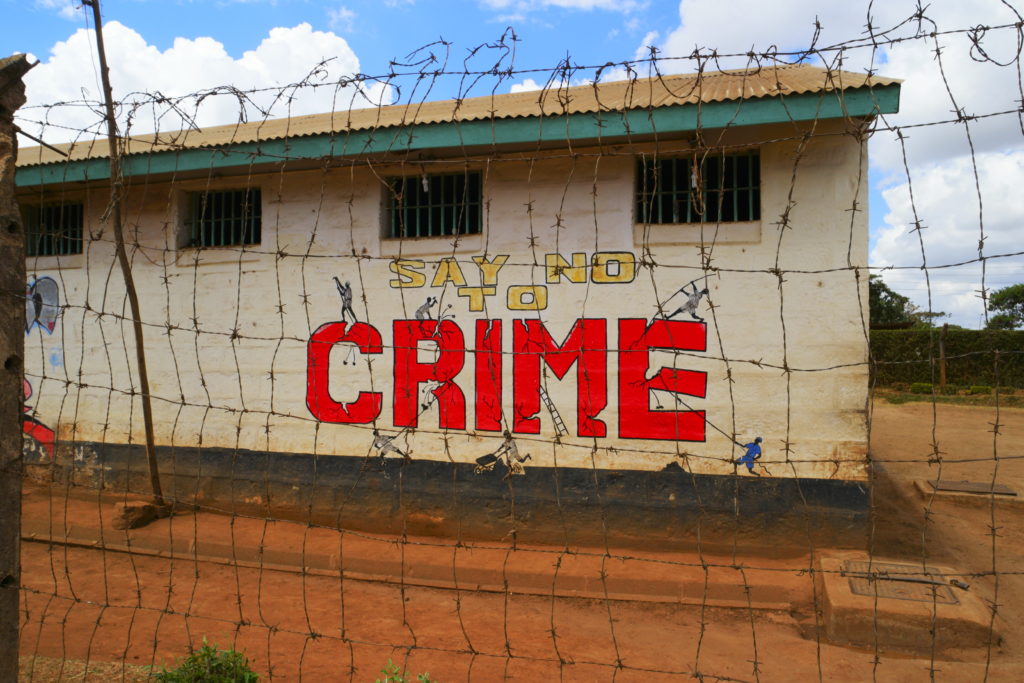 He continued our conversation by telling me about the wise men and women, smart men and women who are officers in the prison. He wants people who read this story to know that in his mind, the
officers are compassionate, caring and trying to change the mindsets of these men in prison.
Pastor Jefferson explained later that spiritual nourishment makes all the difference in the lives of prisoners. Crossroads Kenya brings in Crossroads Bible lessons which often lead to lives being
changed. The team also serves as an advocate for those students when it's time for re-entry.
Here are the officers' answers to why people end up in prison:
1. Poverty
2. Lack of Education
3. Peer Pressure
BOYS
Boys will be boys. They'll smell like boys, slump like boys, mumble like boys, smile like boys. Even boys in a Kenyan prison. Officer Margaret has been chaplain for 10 years in this remand
part of Kamiti prison.
"My boys," as she fondly refers to them are between ages 14 and 21 and live in this section of the prison for an average of four to five months. They are dressed in teenage boy clothes as they wait for sentencing. Once they've appeared before the judge and know their length of stay, they wear a bright blue sweater.
The 30 or so in the room started singing, rhythmic clapping and moving. This time, our group got to sit among them instead of in front of them. I prefer that. We were welcomed with clapping. It was pretty typical teenage boy enthusiasm for strangers…and apparently not enthusiastic enough for Margaret. She knows what they're capable of and gave them 'the look.' They sat up a little straighter and clapped a little louder. She rewarded them with a smile. Margaret is committed to teaching them about respect.
Two boys shared their testimony. One began the way almost every speaker so far has begun our time together:
Call: "Bwana Asifiwe"
Response: "Amen"
Call: "Praise the Lord"
Response: "Amen"
I love this natural greeting we shared again and again. JR, VP of operations at Crossroads (and my hubby), brought it back to the USA and taught it to the tots in our Sunday School class
at our home church. Three and four year olds can do it too.
One boy shared these humble words: "May God bless you so much. May you come back here many times. I believe God works miracles. We did mischief. In ourselves, we know God. Without God is
bad for us. Now we change. We believe our relatives will accommodate us, appreciate us when we return home, because we are saved."
The room slowly filled up. The number of people doubled over time. Beth stood up and spoke to the room full of young men about respect for parents and the promise of Ephesians 6:
"Children, obey your parents in the Lord, for this is right. 'Honor your father and mother'—which is the first commandment with a promise — 'so that it may go well with you and that you may enjoy long life on the earth.'
Pastor Jefferson encouraged the boys to use this short time wisely and to be faithful.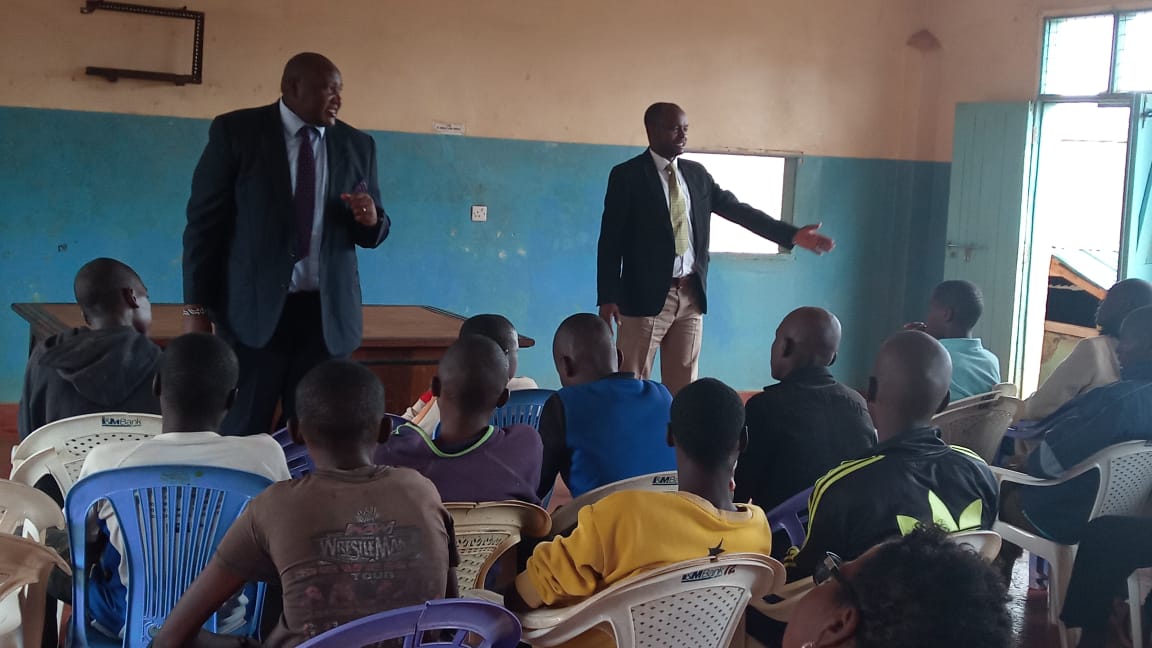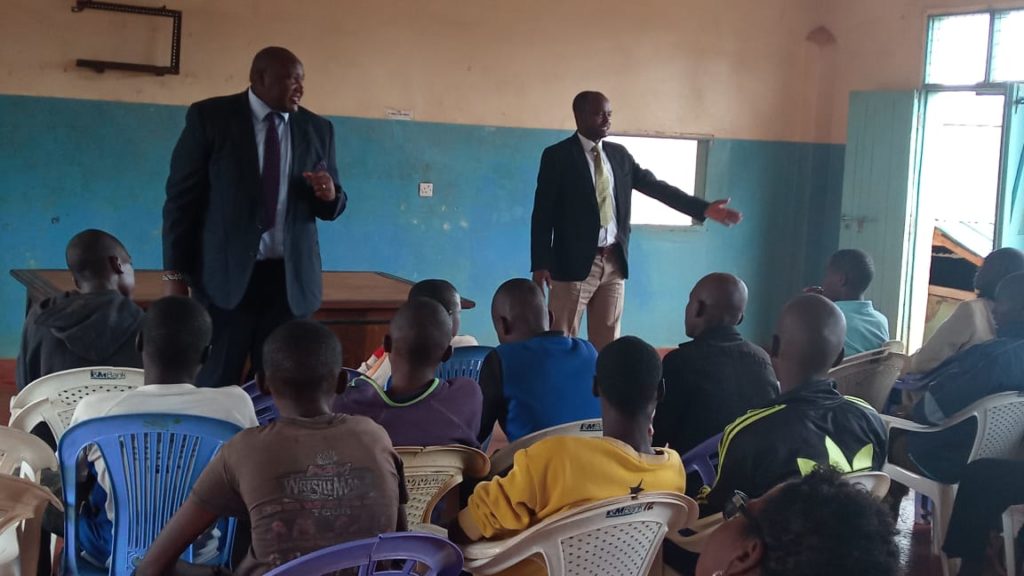 Brenda opened her time in front of the boys by telling them: "You won't be young forever. You won't be here forever." She asked them questions and they engaged.
"Do you want to live well? Do you want to have your families be proud of you? Do you want your mommas to stop crying for you?"
Boys: "Yes. Yes. Yes." They didn't need Chaplain Margaret to give them a look. Their answers were genuinely enthusiastic. They don't want to be here.
Brenda continued: "Choose Jesus. Follow Jesus." She looked them in the eye as if they are her boys, her brothers, her friends' children and told them, "You are not alone. We are
praying for you."
With these boys and later with hundreds of men in the outdoor yard, Brenda shared an article written by Dr. Harold Trulear, associate professor of Applied Theology at Howard University school of divinity. Brenda shared that Dr. Trulear was someone who knew the Bible but didn't apply it to his life and he wound up incarcerated. When he got out of prison, he found out that people treated him differently.
He returned to teaching and had an encounter with a student who said she just did not like prisoners at all. The professor asked the student for her Bible. He told her that if she doesn't like inmates, he was going to have to tear out sections of her Bible as much of it was written by people in prison. The professor listed person after person, story after story. He told the student if she doesn't like inmates, she needs to stop saying: "I can do all things through Christ who strengthens me." It was written by an inmate.
The boys were able to identify people in the Bible who went to prison. They shouted out the answers. I knew those answers too. But I can't say I've ever put all these pieces together — the people, the passages, the message written in prison, written by an inmate.
It was rather profound that I was sitting there in between these boys in prison reading the Good News that was written by prisoners.
THREE MEN ON A ROCK PILE
Thick grey bricks were laying in a pile next to a taller pile of chunky broken stone which was right next to an even taller pile of rocks. After tea, we were led to the medium-security prison yard where the piles are. On top of the tallest pile, several men were sitting and three standing. Hundreds more stood against the brick walls or sat under the Kenyan sun on the brownish grass.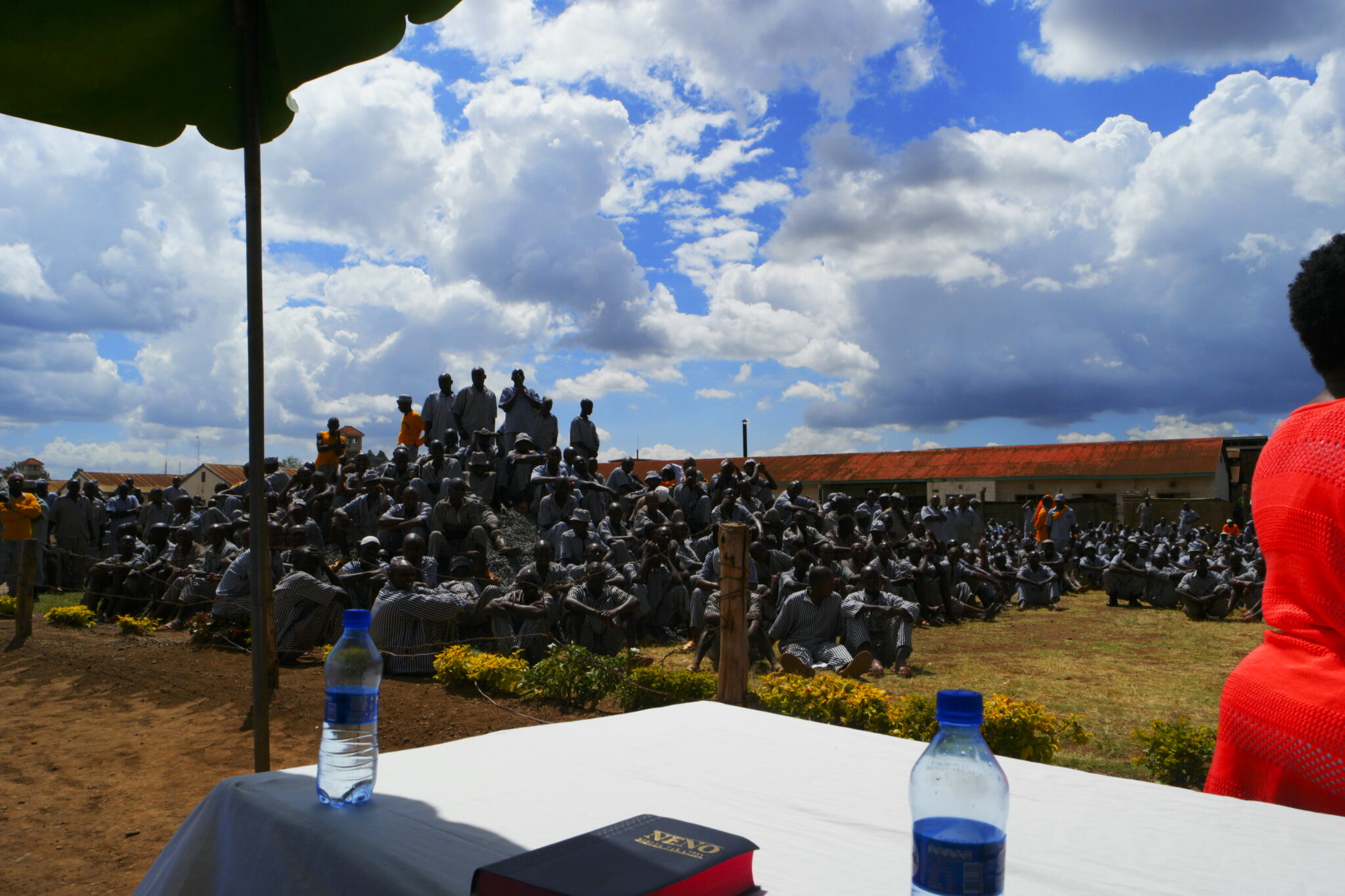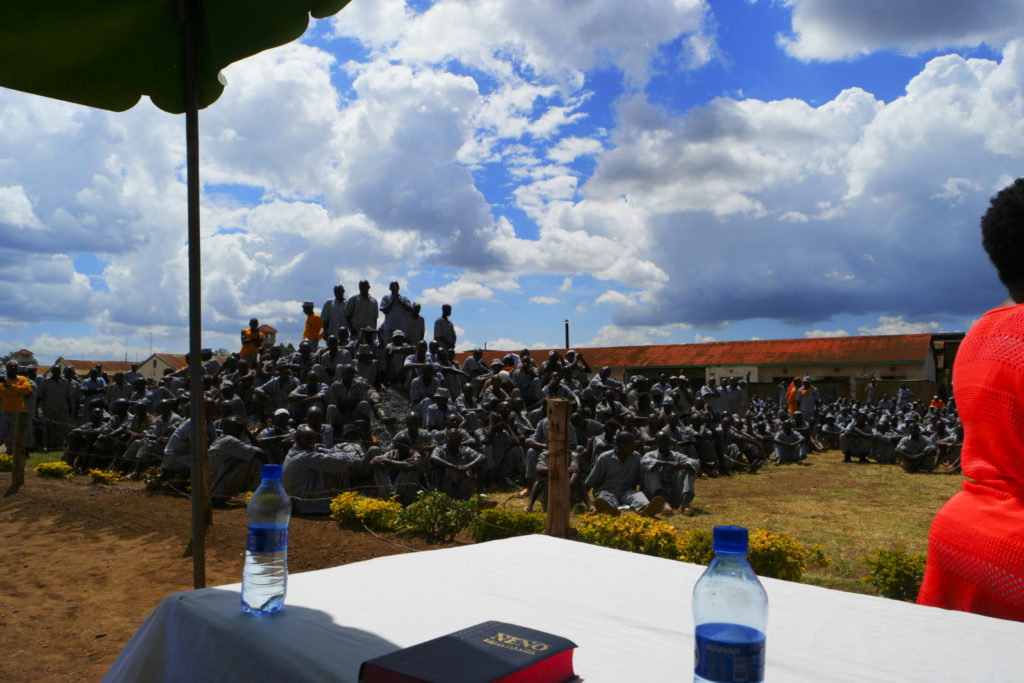 Officer Francis introduced us to the men.
We were thanked for coming such a long distance to show love to these men. They spoke a blessing over our families. They told us they love learning and invited us back.
We worshipped in song together.
Bwana Asifiwe. Amen.
Once again Brenda brought a message of hope and encouragement with Pastor Kenneth interpreting. Her words applied to everyone who heard her, including those of us sitting in the shade: be honest, forthright; walk in love; be an example so people around you want what you have. "The way to be strong is down on your knees."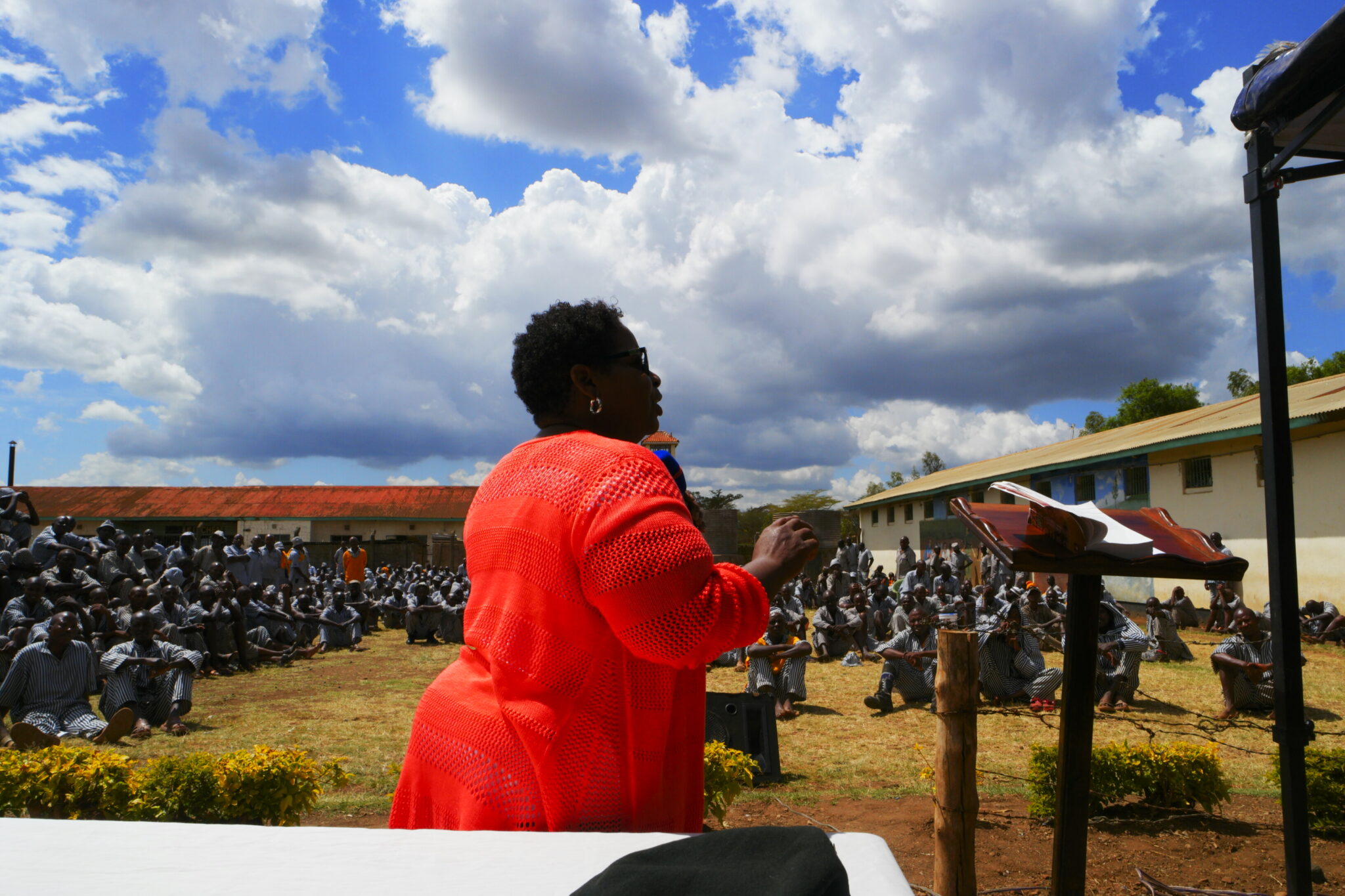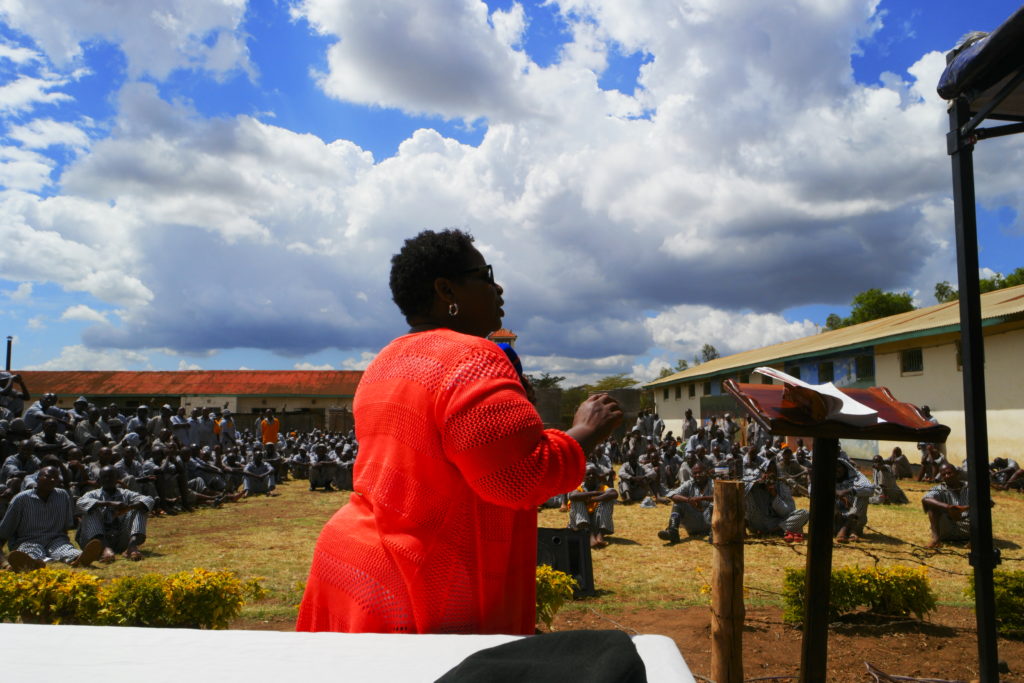 Brenda leaned toward them, assuring them there are people who know their value in the eyes of Christ and pray for them. Her tone, her sentiment, her compassion toward the men on the
rock pile, the ones who sit on the grass and stand against the wall came from somewhere deep. She sat down next to me in tears.
On our way out, I walked next to a female welfare officer. Her role is to serve as counselor, to listen and advise and instruct. Joyce, one of the Crossroads Kenya team, asked her if she is ever afraid working here. The officer told us: "Only at first. Not anymore. Now they are my friends. I meet with them one on one, sometimes in groups and counsel them. I wonder what happened to them out there because in here they are obedient."

Laura DeGroot is a writer and speaker. During a trip to Africa with Crossroads USA, she captured stories of what God is doing through Crossroads in Kenya. Follow along here.