If you had walked into Crossroads' office in early March, you would have found at least a dozen volunteers hard at work stuffing Bible study lessons into envelopes, sorting mail or entering enrollment forms into a database.
If you had stopped by a week later, you would have found a very different scene: a locked door and a letter outlining the five essential personnel allowed into the building.
As schools and businesses began closing their doors mid-March due to the COVID-19 pandemic, Crossroads' staff assembled for their last in-person meeting and agreed that continuing to serve people in prison through this season of uncertainty would be more important than ever. As we heard reports of jails and prisons closing their doors to visitors and volunteers, we knew our ministry would be a lifeline for many of our students as they became even more isolated. So, over the next few days, Crossroads' leadership began working hard to equip staff members to work remotely.
The building steadily emptied over the next week as volunteers and staff members began sheltering in their homes. What once was a busy space suddenly felt quite empty.
As we transitioned primarily to remote work, we never lost sight of our mission. Committed to ensuring that our students knew we would not forget them in this season, we quickly made plans to send a mailing to each student. The mailing contained a 90-day devotional from Our Daily Bread Ministries for the students to use if they became disconnected from the ministry. With the help of several remote volunteers and staff members, we mailed 18,500 of these devotionals to our students just two weeks after the office closed.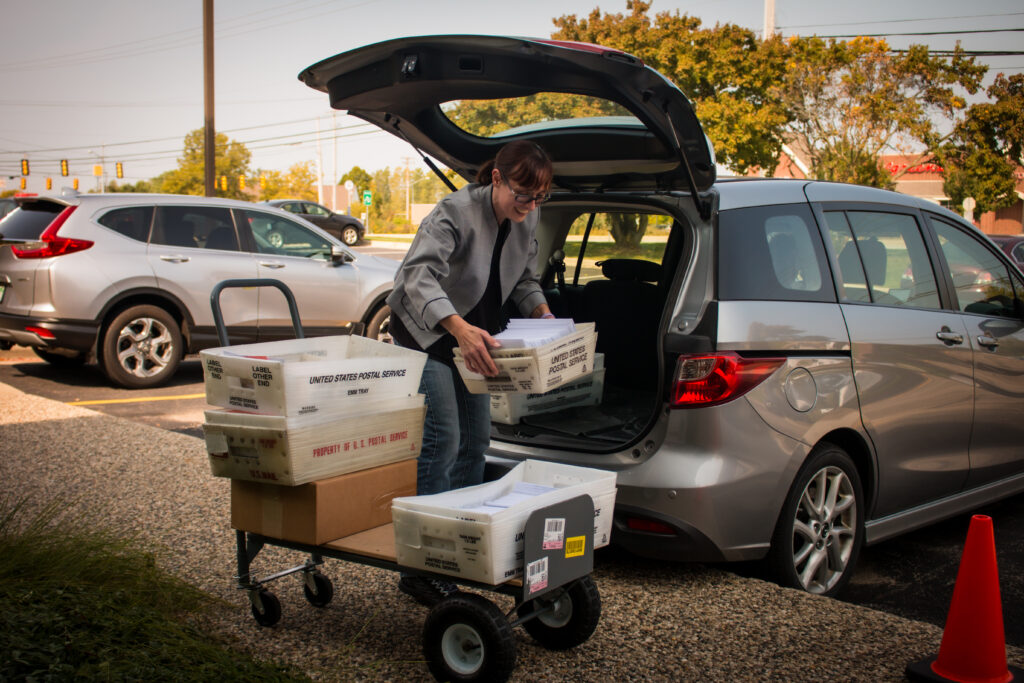 The five staff members that remained in the office worked tirelessly to make sure we could continue to connect men and women in prison with mentors through our correspondence Bible studies. These staff members met daily to prioritize tasks and make sure the mail was opened and sorted. They reached out to displaced volunteers, offering prayers and encouragement. They also communicated with the rest of the staff to set up a contact-free lesson exchange system, making sure the lessons were processed and ready to send to both mentors and students each week.
What began as a three-week lockdown quickly became three months, but with the dedication and flexibility of staff, volunteers and mentors, Crossroads safely sent more than 35,000 lessons to students across the country.
After the first three months, restrictions began to loosen, and the rest of the operations team returned to the building. With a developing system in place, Crossroads has now been able to engage an increasing number of local volunteers to help process lessons from their homes. These dedicated volunteers daily drive to the office to drop off and pick up lessons in the parking lot.
"We wouldn't be where we are today without these curbside heroes," said Joni Jessup, volunteer relations manager at Crossroads. "The passion and dedication of our volunteers are such an inspiration to us as staff."
As difficult it has been for the Crossroads team during this season, we recognize how much more difficult it has been for people in prison. That's what motivates us.
"With prisons across the country closed to visitors, the work of Crossroads is more important than ever. I'm so proud of the way our team has worked tirelessly to continue to serve a population that is so often forgotten," said Lisa Blystra, president and CEO of Crossroads. "While we look forward to reuniting with the entire Crossroads team, we praise God for the ways He has equipped and provided for the ministry in this season, empowering us to continue living out our mission."
During this season, many people, including those in prison, are living with fear and uncertainty. God has blessed Crossroads with the opportunity to continue sharing the love that casts out fear with men and women in prison. Will you join us? Click here to donate or become a mentor.