In a year when in-person prison ministry has been put on pause in many areas of the world, Crossroads has been able to establish and strengthen partnerships with other ministries that are looking for a way to continue to serve men and women behind bars.
One of those ministries is Alpha, an international organization that produces "an 11-week course that creates a space, online or in person, where people are excited to bring their friends for a conversation about faith, life and God."
Alpha is designed to be non-threatening environment where men and women gather weekly for food, a talk and good conversation. After watching a video series exploring key elements of the Gospel, participants are divided into assigned small groups where they get the opportunity to discuss what they learned freely.
Over 20,000 churches in more than 100 different countries use the Alpha course. Additionally, more than 900 prisons in 46 different countries have used Alpha with the goal of preparing them for reentry and helping prevent recidivism.
Since August 2019, Alpha and Crossroads have partnered together to share about each other's ministries. Through this partnership, we were connected with LaDavid Taylor, an Alpha Ambassador in Houston, Texas. LaDavid is a former Crossroads student who works to promote Alpha in churches.
When we reached out to LaDavid, he expressed his excitement about the partnership between Crossroads and Alpha because both ministries have had a profound impact on his life.
When LaDavid found himself in prison in 1999, he was searching for a way to stay connected with his faith. He soon stumbled across a pamphlet for Crossroads on a table at his facility and mailed in the application.
As he reflected on his experience with Crossroads, he told us, "The loneliest and most idle time spent for a prisoner is in their cell . . . that is where the mind is flooded with thoughts, pains, questions, plans – you name it. The Bible study and the encouragement of the letters that accompany the study gave me focus and encouragement in that space."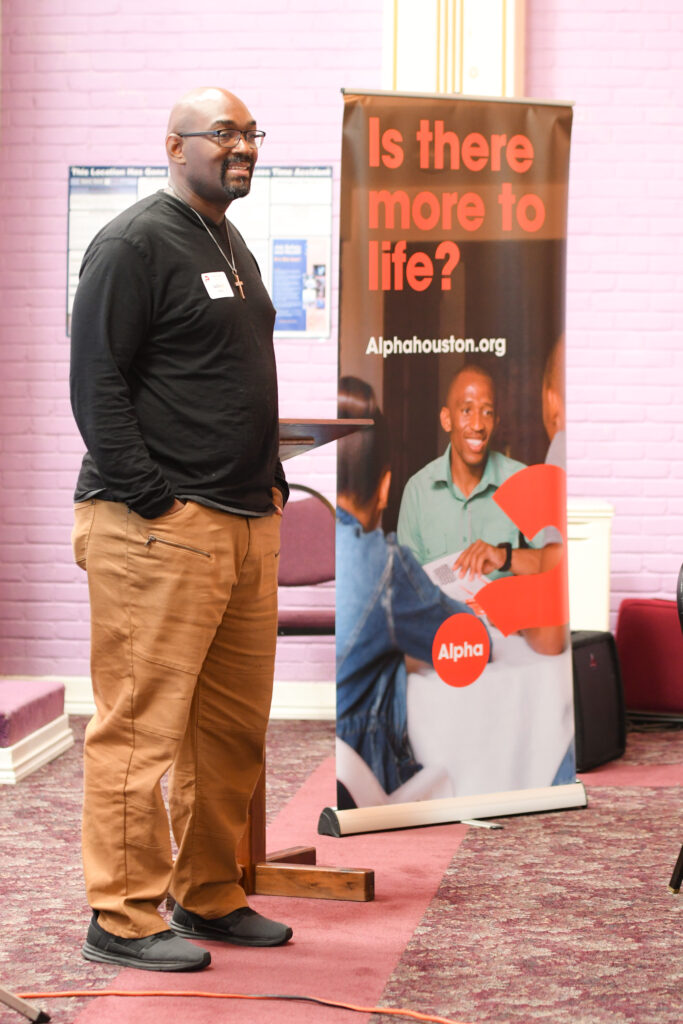 After spending years completing Crossroads studies, LaDavid joined an Alpha group in 2016 and quickly jumped in as a volunteer, connecting men in other units with Alpha and facilitating new groups. After he came home in 2018, he continued volunteering with Alpha. Now LaDavid works for Alpha as an ambassador, training people in churches in Texas to become hosts and continuing his ministry in prisons.
What LaDavid loves about Crossroads and Alpha are the connections that you make through the programs. With Crossroads, he felt that his mentors "actually listened and responded" to what he wrote. "You knew you was heard," he said. "People [in prison] use Crossroads to share the Gospel with other guys. They share the letters. It makes a difference when someone gets a letter. It speaks to people's lives. And the mentors have no idea what impact they are making; they are just being obedient. With Alpha you feel heard, and the same with Crossroads."
Through Alpha's partnership with Crossroads, LaDavid is sharing information about Crossroads with Alpha volunteers and has seen many of them sign up to become Crossroads mentors. He recently shared a story with us about a woman who leads a quilting group through which she connected twelve people to Crossroads.
Another thing he appreciates about this partnership is that Crossroads and Alpha supplement rather than replace each other. Since many units aren't allowing volunteers inside the prison, many Alpha volunteers have signed up as Crossroads mentors to continue encouraging men and women behind bars. "Crossroads expands their reach," he said. "It takes their experience to another level."
As a former Crossroads student, LaDavid is thankful for the mentorship he received that has helped lead him to where he is today.
"I am just one of the many you delivered hope and freedom to, through your faithfulness," he told us. "Many men and women in prison do not have family nor friends writing them. When they hear their names called out for mail, it shifts their heart to immediate joy. While some steal away to the security of their cell, others make a time in the dayroom, on the rec yard or in the library to share the study and your letters to bless the hearts of others with the words and the love you share. Your work is so important, and it is impossible for you to know the magnitude of the work of your hands inside of prisons. I encourage you to continue your work faithfully. The Lord is blessing many through your work."
We are thankful for our partnership with Alpha and encourage you to utilize their course within your own church communities.