At a certain point in a Crossroads student's relationship with their mentor, they become more than Bible study partners. They become friends.
Bryan, a Crossroads student in Illinois, and his mentor Betty are a good example. They developed a close relationship as they studied the Bible together and exchanged letters through the Crossroads program for over three years.
So when Bryan learned that Betty passed away earlier this year, he was heartbroken.
"She was not only my mentor. We had become friends. We had the chance to write and share many thoughts, prayers and parts of our lives," Bryan said.
It was during the final months of Betty's life, as she battled cancer, that her friendship with Bryan really blossomed.
"I was aware of her cancer and the struggles she was facing," Bryan said. "She never lost her faith. In fact, even in those last few months, she stayed strong, so much so that she gave hope, strength and prayers to me and my mother."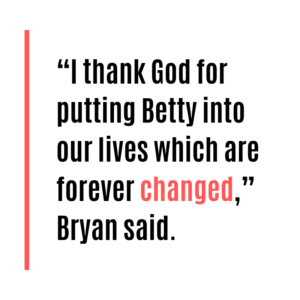 Bryan's mother was facing serious complications from a back surgery that left her paralyzed from the waist down. With Bryan locked up 1,500 miles away from his mother, she felt deeply lonely and hopeless. Bryan felt powerless to help her.
"Betty of course jumped in and wrote me with words of encouragement and prayer," Bryan said.
Over these trying months, Bryan forwarded Betty's letters to his mother. "I needed my mom to know she had faithful people praying for her," Bryan said.
Bryan's mom was bedridden but began to discover love and new life in Christ through reading God's Word. Betty was the inspiration behind her new spiritual practices of prayer and Bible reading.
With all three of them praying, Bryan's mom slowly began to heal. She began taking small steps and eventually worked up the strength to stand for a couple minutes at a time.
"She was gaining confidence, strength and most of all hope," Bryan said. "Little did she know what was to come next."
Bryan's mom went to visit the doctor to talk about next steps before more surgery. But after examining her and reviewing her MRI results, the doctor was dumbfounded. Her back had healed so much that she no longer needed surgery.
"The doctor said, 'This doesn't make any sense. I can't explain any of this,'" Bryan said. "My mom cried and knew it was God answering all their prayers."
This took place just weeks after Betty passed away.
Bryan said he and his mom are so grateful for Betty's prayers and encouragement during their time of need, even as Betty faced her own struggles with cancer.
"I thank God for putting Betty into our lives which are forever changed," Bryan said.
In memory of Betty, Bryan created heart-shaped boxes and sent them to her family members. "I hope they gain some comfort and strength from them," Bryan said. "I made them to honor Betty and what she stood for."
Betty was a Crossroads mentor for over 20 years, serving and encouraging dozens of men and women in prison. Her unending passion and love for God and for people in prison leave a beautiful legacy.
Are you interested in making a difference in the lives of people in prison? Sign up to be a Crossroads mentor!