In 2019, US leaders and five extension center directors met in Thailand for a leadership summit. They began to envision the future of Crossroads' international program, dreaming of mobilizing regional leaders to assume responsibility for ministry sustainability and expansion.
In 2020, that vision began to take shape as Africa's regional leadership center was launched and Jefferson Gathu was appointed as the regional director. Through this regional leadership model, Jefferson oversees all six extension centers in Africa while providing strategic leadership, decision-making, and training for ministry throughout the continent.
When the US team faced COVID-related travel restrictions, Jefferson eagerly stepped up to lead. Jefferson's capable leadership confirmed that this vision of a regionalized model was the right step for our international program.
This June, the first Crossroads Leadership Conference was held in Nairobi, Kenya, bringing leaders from thirteen different countries together in Africa. The theme of the conference, centered on Philippians 2:1–11, was "1." Brian Kamstra, Crossroads' director of international ministries, said he and Jefferson chose this theme because the numeral is recognizable across languages and reflects their desire to be "like-minded, having the same love, being one in spirit and of one mind" (Philippians 2:2).
Over the three-day conference, global leaders shared stories of transformation and program impact. Attendees received training on how to steward their resources well and how to mobilize and empower mentors and volunteers to grow spiritually as they serve men and women in prison.
"It was a real blessing to meet people face-to-face for the first time," said Steve Drewry, Crossroads' international manager. "I was encouraged as we gathered with other people who have a similar vision, a similar heart, and a similar call to prison ministry."
In addition to attending workshops, conference attendees had the opportunity to visit local Kenyan prisons, where eight people accepted Christ.
"One day, several women from our team went to a women's prison. This facility was where they send you if you are expected to have a twenty-five-plus-year sentence," Brian wrote to Crossroads staff in an email update. "Soon after they arrived, the women could be heard singing praises at the top of their lungs. My wife said to me [that night], 'I think there is a lot I can learn from these women behind bars.' These women were totally on fire for Christ!"
As everyone began their journeys home, they left filled with enthusiasm and passion for their ministry, excited to continue learning and growing together.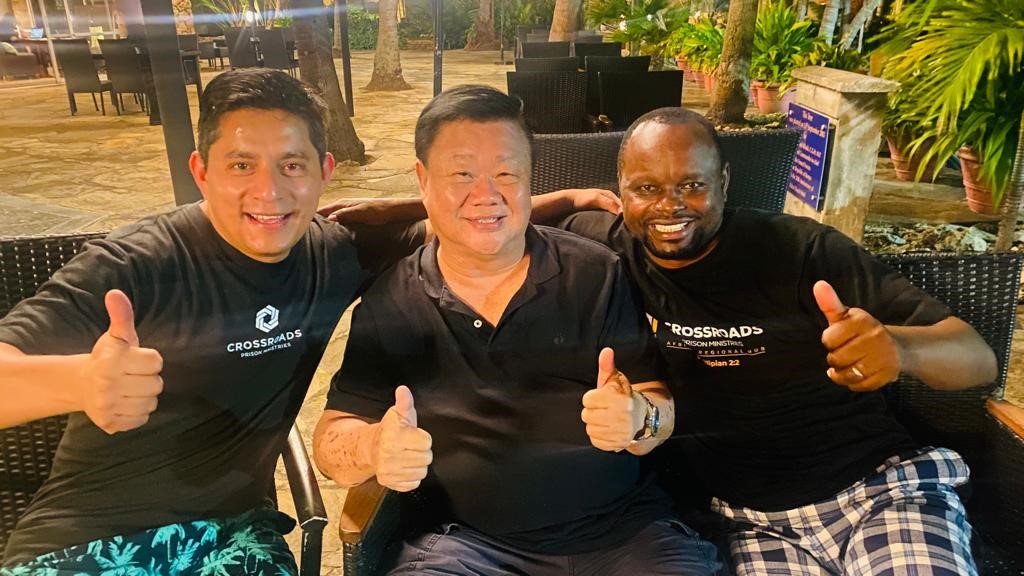 During the conference, Hans Daza (left) and Paul Tan (center) were appointed as regional leaders to oversee Latin America and Asia, respectively. Along with Jefferson Gathu (right), these gifted leaders will assume growing responsibilities, positioning Crossroads for sustainable global growth over the next decade.