On any given day in America, over 555,000 people sit in pretrial detention.
They are housed in local jails because they can't afford to pay the bail that has been set for their release. The median bail for felonies is $10,000, which is the equivalent of eight months of income for the average person who is in pretrial detention.
This year, many people have seen their trial dates pushed back indefinitely due to the ongoing pandemic. The effects of the cash bail system perpetuate inequities in the justice system as communities of color and those who are experiencing poverty disproportionately experience the collateral consequences of pretrial detention. Being removed from their community for an extended time often causes men and women in pretrial detention to lose homes, jobs and/or custody of their children, even if they did nothing wrong.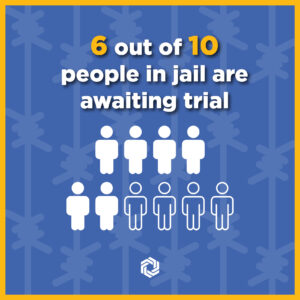 Fredrick is a Crossroads student who has been locked in jail for several years awaiting his trial. In February 2020, after two years in jail, Fredrick was finally scheduled to go to trial, but a bigger case came up and his trial was rescheduled to March 2020.
"Due to COVID, I have not been in court since," he wrote us. "Yet I honestly believe that all this stuff that I have been through is a journey to God."
This journey of faith began when he first arrived in jail, and he reached out to Our Daily Bread to request a devotional. It was in their mailing that he discovered an application for the Crossroads Prison Ministries mentorship program.
Fredrick has been faithfully completing his Crossroads lessons for over two years now and recently started his fourth course, All Work is God's Work, with his Tier 2 mentor. What he has learned through Crossroads has empowered him to share the Gospel message with others and helped equip him to be a leader in his facility's worship services.
"The lessons and learning about God brought me much comfort, and I also had the opportunity to share my poetry, which one of them got published in the art journal," he wrote.
Fredrick is one of thousands of men and women facing anxiety and uncertainty in jail while awaiting trial. Crossroads seeks to provide hope and encouragement to our students. By connecting men and women in prison with mentors, they are given the opportunity to build life-giving, Christ-centered relationships.
"Today I am a new creature, a new man," Fredrick wrote us. He dreams of the day when he can reenter society and share the love that he has discovered in Christ.
"Crossroads is a light shining in a dark place. It has fulfilled the Scriptures in my life to 'bind up the broken hearted, to proclaim liberty to the captives, and the opening of the prison to them that are bound.' The mentors have also given me much encouragement and cheered me on as I did my lessons. The Christmas cards and books that I received from Crossroads made me feel like someone out there cares for me. I love this program."
Please join us in praying for the 555,000 people in pretrial detention. If you would like to support Crossroads in its effort to share hope with people in prison, click here.