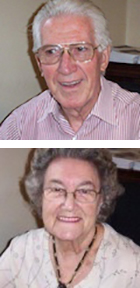 Ray Hoekzema & Anne Bruinsma
Directors
Email: office@CrossroadsPM.org.au
Phone: +61 (02) 8014 6485
PO Box 84
Pendle Hill NSW 2145
Australia
A powerful arm of Crossroads's ministry reaches out from our Australia office in Prospect, New South Wales. Students from Australia, the Solomon Islands, Fiji, Vanuatu, Tonga and Papua New Guinea study under the guidance of volunteer mentors.
Andrew Pow, a fieldworker in the region, continues to foster healthy relationships between prison officials and chaplains in Papua New Guinea and Crossroads. In addition to his frequent travel schedule, Andrew visits and encourages volunteer mentors on the mainland. This multifaceted role has provided Crossroads with valuable experience and relationships in the surrounding area.
Crossroads Australia continues to be Crossroads largest extension center. With only twenty-nine lessons received in 2002 and more than eight thousand expected lessons in 2017, Crossroads Australia has seen exceptional growth in its 15 years of operation.
I just wanted to say a huge thank you for making me a part of this awesome, wonderful ministry. I am astounded at the wonderful work the students do and at their hearts so full of love for God, at their desire to tell others about God and at their understanding of what they are reading in the Bible. The lesson I have just finished correcting today brought tears to my eyes. What a ministry Crossroads is! I am so proud that God has brought me into it. –Vicky D., Crossroads Australia Mentor